OUR FLEET
Our limousines and party buses will fit your every desire.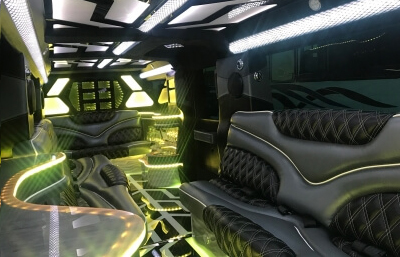 Party Bus Los Angeles
We are proud to offer the Los Angeles area the finest limousines and party buses.
Los Angeles is full of character. There are so many places to visit and things to see. You'll find upscale restaurants, premium shopping outlets, sporting events, gorgeous scenery, and celebrity sightings. Los Angeles is nearby all the popular attractions you hear about. From downtown LA you can easily get to Hollywood, Beverly Hills, and the Santa Monica Pier. And let's not forget Disneyland, the Hollywood Walk of Fame, the Getty Center and Rodeo Drive just to name a few. And what better way to experience such an amazing city than in a gorgeous party bus? We've been doing business in LA for years and we know how over-the-top an LA event can be, and our party bus rentals are worthy of such fun events! A Los Angeles party bus is the number one way to hit the town, as far as we're concerned. We work hard to provide outstanding customer service, superior vehicles, and unbelievable prices.
Los Angeles Party Bus Features
Our party bus fleet is top-of-the-line! Our vehicles are fully customized so they're unique to us. On board each party bus and limo you'll find plush leather seating, beautiful exotic hardwood floors, colorful lighting to set any mood, booming sound systems, large TVs and DVD players, CD players and iPod or MP3 player connectivity, coolers and much more. Not to mention dance poles on the party buses! In short, they're just what you need to party in beautiful Los Angeles, CA. Our versatile fleet means our party bus services are ideal for an endless variety of events.
Why an LA Party Bus Rental is the Best Choice
Many people think they can carpool from place to place, and not only is this a hassle, but it doesn't compare to our exclusive party bus service! It doesn't sound like a lot of fun to be separated from each other for much of the time. But if you carpool, you'll have to designate drivers which means they will not have a chance to enjoy any of their favorite drinks. You'll also have to fight traffic and constantly search for decent parking spots as you attempt to come back together at each location. Why not just book one of our phenomenal vehicles where you'll all be together for your entire rental time and where you'll get to enjoy some of the most amazing features you'll find anywhere.
24 Hour Party Bus Services
You can call us to get a quote or book a bus at any time. We provide 24/7 customer support so you can call whenever is most convenient for you! We think you'll be pleasantly surprised with the affordable and competitive price quote you'll get from us. You and all your friends can enjoy celebrity-style luxury in LA no matter what your budget when you choose Los Angeles Party Buses. And because we keep our service so reasonable, you really have no reason to even think about trying any other type of transportation.
Our pricing is fair and competitive. There will not be any hidden fees. We will inform you of potential charges up front. The prices also include taxes, drivers tip, and fees.
Our fleet of vehicles offers a range of passenger capacities and amenities. Please take a look to discover what limousine or party bus would fit your need.
Our professional chauffeurs know the best routes around the city to get you to where you're going, safely and on time. They are also familiar with Anaheim Party Bus service.
Contact Us Anytime
Thank you for visiting Los Angeles Party Buses. If you have any questions that are not addressed here, feel free to contact us at any time, day or night. One thing we want you to know is that we will never pressure you into making any kind of decision. If all you want is information, then that is all you'll receive. Our main goal is to have informed customers. But when you do feel you are ready, one of our affable and knowledgeable customer service agents will be more than happy to walk you through our easy and painless booking process. We are always available to you so that you may book your limousine service when the time is right for you. We look forward to hearing from you.
Different types of transport that fit perfectly in any of your events.