Los Angeles Shuttle Bus Rental
In Southern California, there's a lot you can do when renting a charter bus. We happen to have the best plans for you to use our group transportation, as you want to use it in Los Angeles. First of all, let us clarify what our cahrter buses are and how they differ from other vehicles in general and in our fleet. This is the perfect vehicle for large groups! So, if you are planning to go and hang out with your large group of friends in Los Angeles, we are the perfect transportation solution. Whether we're talking about needing special event transportation or a Los Angeles Airport shuttle services, our charter buses are the right ones to meet your needs.
Secondly, if this is your first time on this side of the country, you will want to have a Los Angeles tour where you don't have to worry about transportation. Aware of that demand, we are ready to come in and take you to any place you want to visit in Los Angeles or the surrounding areas. For example, wouldn't it be great to visit Knott's Berry Farm on your next family trip? If you have a large family, you will surely appreciate having extra help to bring all of you from LAX airport to your hotel and then from the hotel to the theme park. Let us take care of your airport shuttle, and you will finally be able to relax during your days off.
Discover our modern charter bus rental
F650 Charter Bus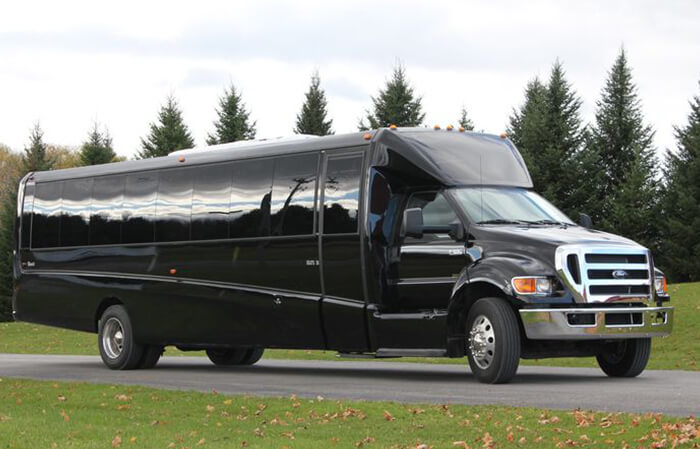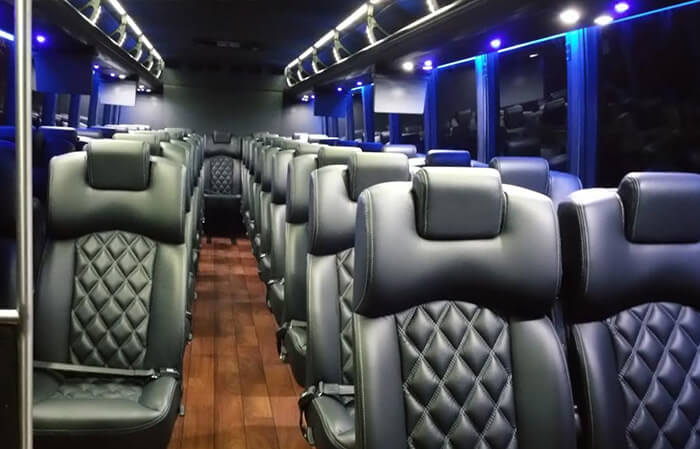 High-back leather seating for 32
Wood flooring
Comfortable seating
Overhead luggage space
Custom lighting
Dark tinted windows
F550 Charter Bus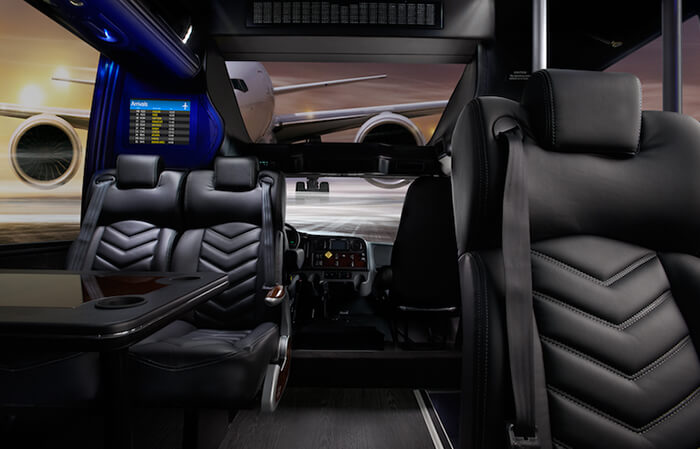 High-back leather seating for 28
Wood flooring
Comfortable seating
Overhead luggage space
Custom lighting
Dark tinted windows
What you can do with our Los Angeles charter bus rentals
Book a shuttle service to get to know Universal Studios Hollywood, Walt Disney World, and all popular destinations in Los Angeles. If you want to go to the Hollywood Walk Of Fame and then visit Disneyland Park, Griffith Park, the Griffith Observatory, the Getty Center, Los Angeles Zoo, and the Getty Villa, rent a charter bus to take you everywhere with no delays and no need to use public transportation! Our charter buses offer a comfortable ride in downtown Los Angeles, CA. And if you want to explore the surrounding areas, we have the perfect destination for you! Santa Monica, CA, is really close to downtown LA so our Los Angeles coach bus rentals can cover your private trip. Enjoy a beautiful morning and afternoon in Santa Monica Pier, and we can bring you back to LA at the end of the day.
Another good reason to use our bus services is, as we have already said, in case you are throwing a wedding party, bachelorette party, or any other special event you are celebrating in Los Angeles, CA. A professional driver will take you and your guests on an amazing ride through the city while you are enjoying all comfort our charter busses offer. Our wedding shuttle bus rentals are very popular in the city, and the best part is that they are completely affordable. Additionally, you can rent our shuttle bus service for your sporting events. That way you can go with your team and don't need to find parking for everyone. The group travels we provide are also a good way to cover your transportation needs for your upcoming field trip or business trip.
Freightliner Charter Bus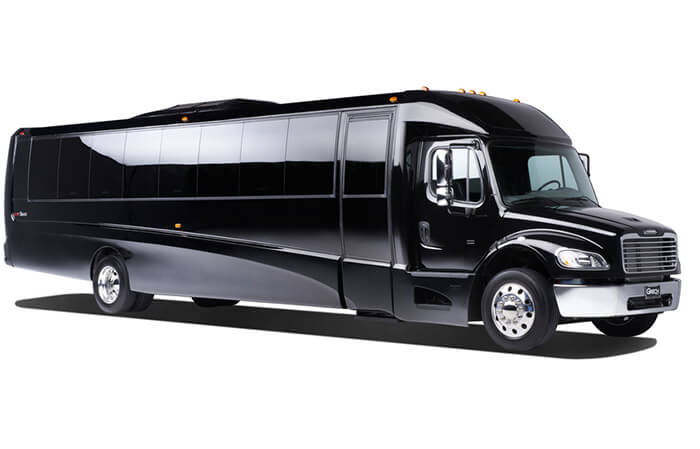 Seating for up to 45 passengers
Dining tables
Wood flooring
Great sound system
Super comfortable high-back seats
Overhead luggage space
Dark windows for privacy
Mercedes Sprinter Shuttle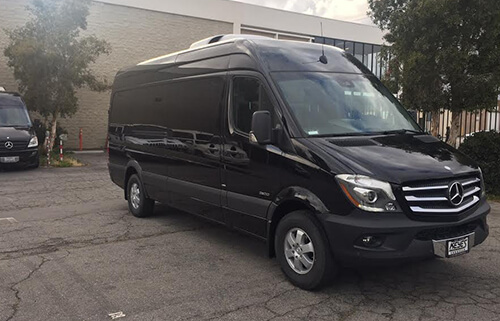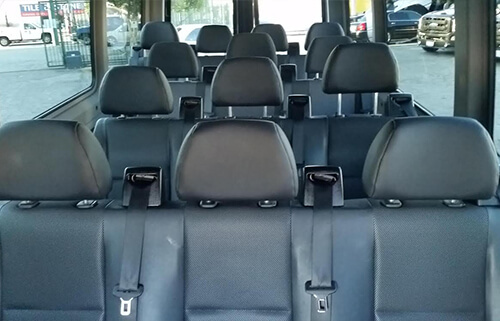 Supple leather seats
Room for up to 14 passengers
Dark windows
Space for luggage
Great sound system
Reliable transportation for your next group trip
There are many ground transportation services in Los Angeles County, but the private charter bus rental we can provide to you has more benefits for your group travel. And you could ask why our Los Angeles charter bus rentals are reliable. Well, the answer is very easy; basically, we can give you more than you actually expect from us. Besides sending a kind and professional bus driver and arriving on time, we also offer you a great experience on the road. You will have fun and a smooth ride. Even if you are one of those who do not like to spend so much time in a vehicle, you will enjoy this trip with us.
Call us anytime you need us to schedule your next road trip to Los Angeles, Beverly Hills, West Hollywood, or Anaheim, CA. After all, we have an ample service area in the county. The perfect shuttle bus rental for any event you might be planning across the state! And if you think you need something more formal, go ahead and look at the other transportation options we can provide you with. They are all posted on our fleet page. Have a good time on board a luxury vehicle in greater Los Angeles.